Held at the Roman Amphitheatre and Odeon Amphitheatre in the heart of Amman, the Al Balad Music Festival is an annual event showcasing brilliant musical talents from across the Arab World. An intrinsically cultural event held at a venue with a profoundly rich history, the stage flaunts some of the Arab World's most significant talents. The festival, by the intention of the organizers, and its history of exhibitions, and its historic setting, works in harmony with the talents it seeks to showcase, yielding an event that is uniquely Arab, and one that both profound yet unpretentious.
The design process for this festival needed to honor the vision of its organizers, the caliber and style of musicians, the setting, and the expectations and experiences of the audience. This took on slightly different manifestations for the 2013 and 2015 festivals, but each was underpinned by this principal philosophy.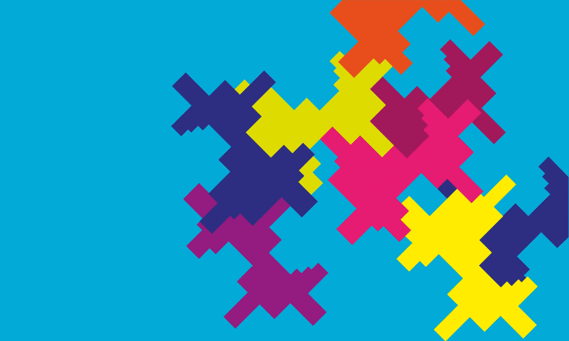 YEAR: 2013
For the 2013 Al Balad Festival we drew inspiration from the shapes and lines of Amman. It's skyline and architectural identity reflected in the original geometric patterns designed for the event.

A festival of this nature is by design and expression a dynamic force underlay by a constantly moving set of variables.

This is true both behind the scenes and on center stage. With this in mind, we chose a dynamic, colorful, vibrant design that seeks to mimic the energetic vibe of the festival, conveying in visual communication a taste of what was to await the audience.
YEAR: 2015
In 2015, the organizers had developed a more mature vision and voice for the festival, a natural progression for an event that was then seven years old.

This necessitated a design that gave tribute to the event's maturity and it's growing significance both in Amman and across the artistic landscape of the Arab World.
This maturity was achieved by the selection of a more toned down color palette, whereby the artists and the festival brand identity are showcased in complimentary yet equally significant ways.
The style of the musical talents demanded a stoically bold style of visual communication. We chose black monotone for its inherently neutral quality, and turquoise blue to reflect the clear blue skies of Amman in summer, when the festival is held. The Contrast between the image of the musician and the festival's logo emphasize the symbiotic relationship between the two equal forces; the organizer and the musician.
© 2021 MARIANNE SAHOURI DESIGN